Competition Package - Porsche 991.1 Carrera S / GTS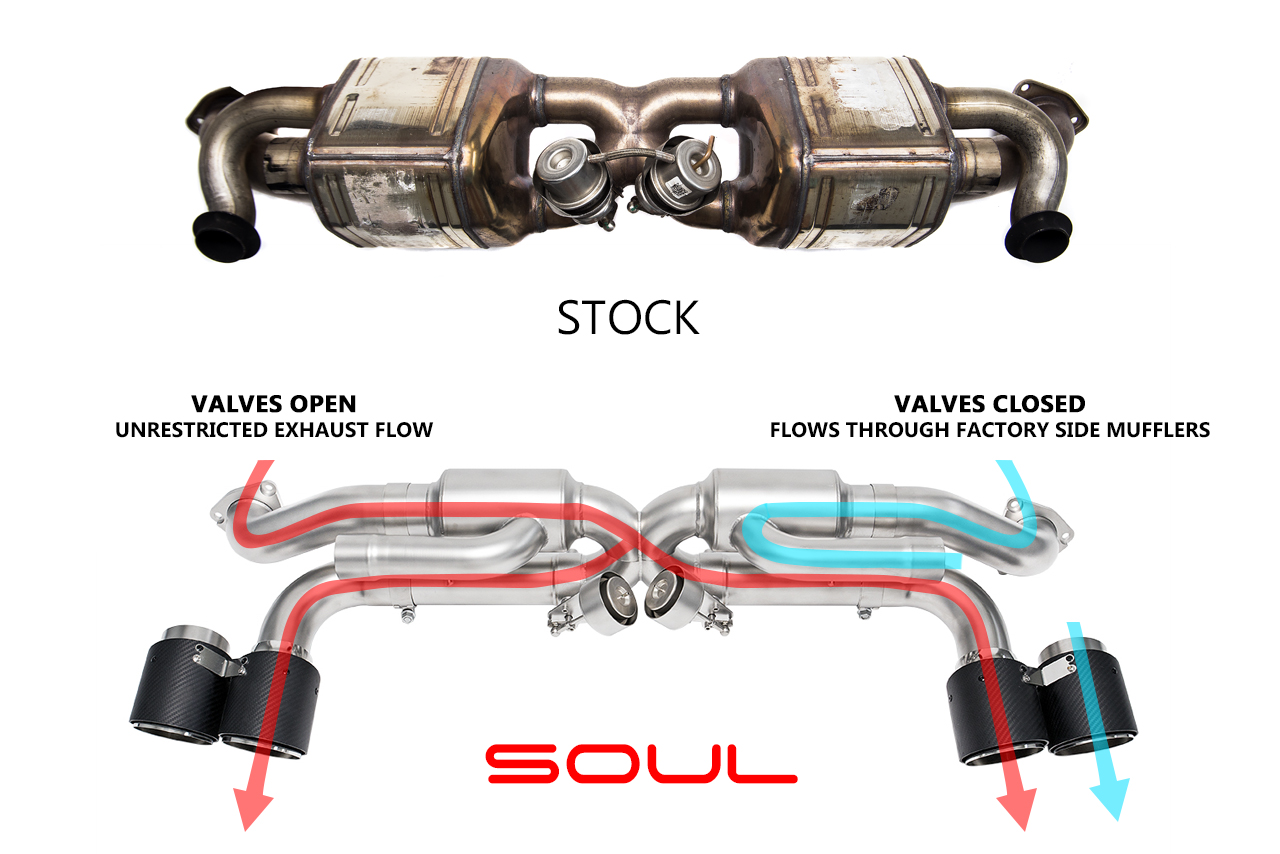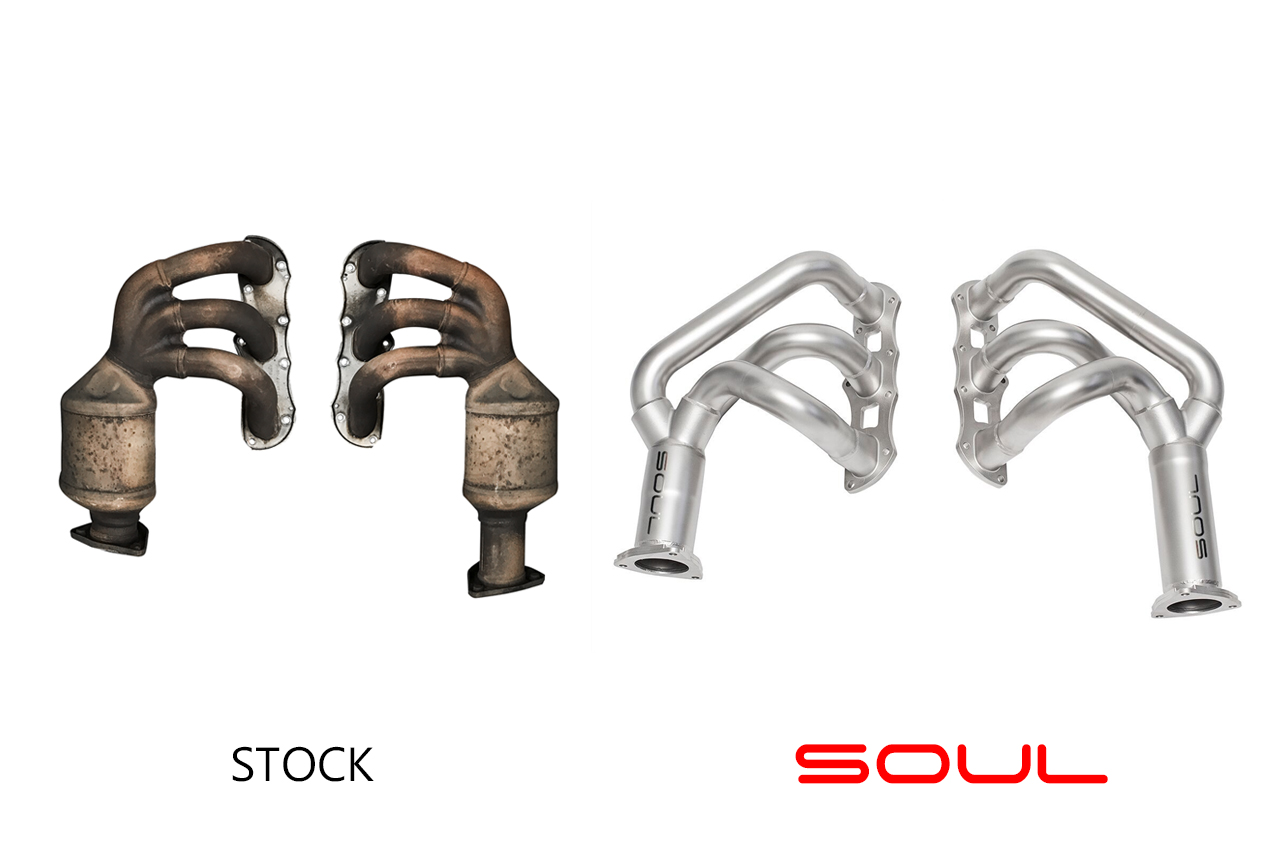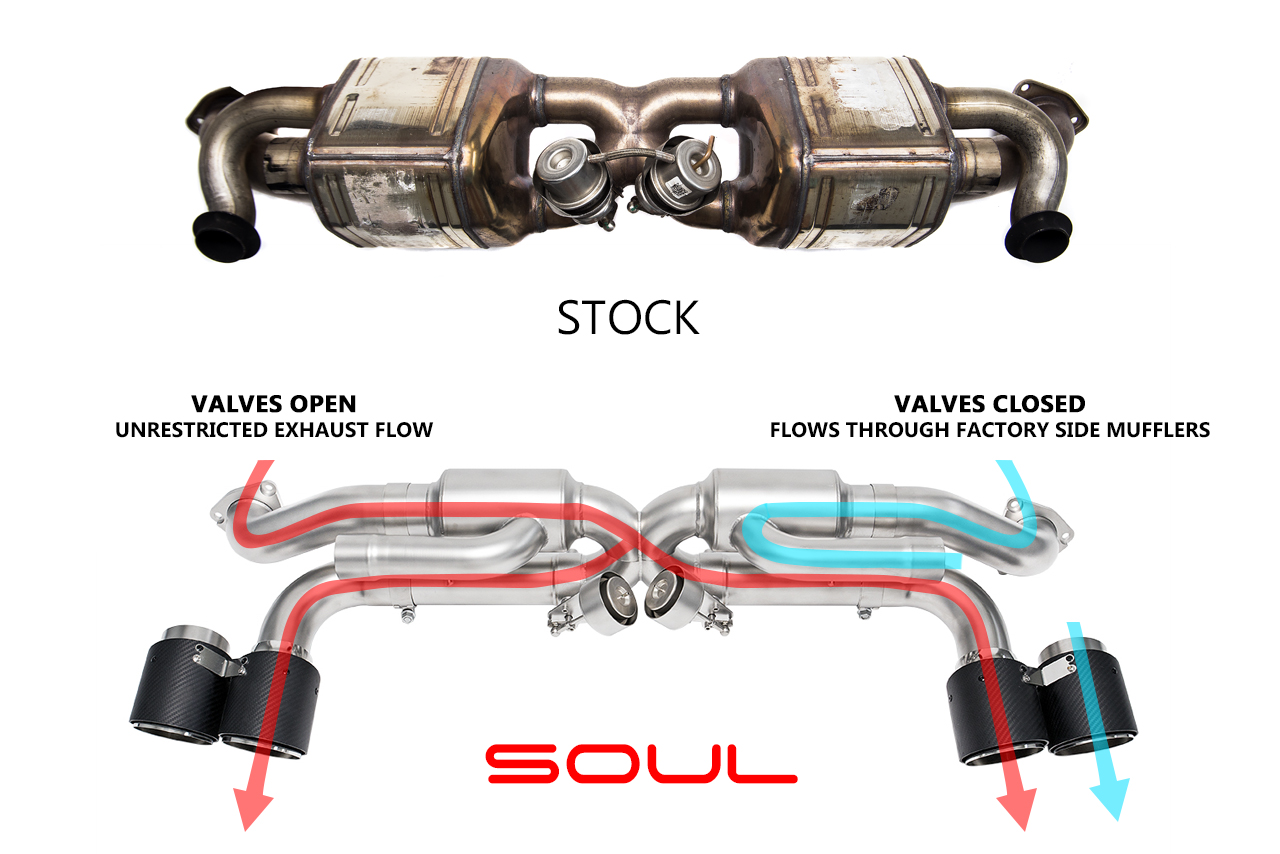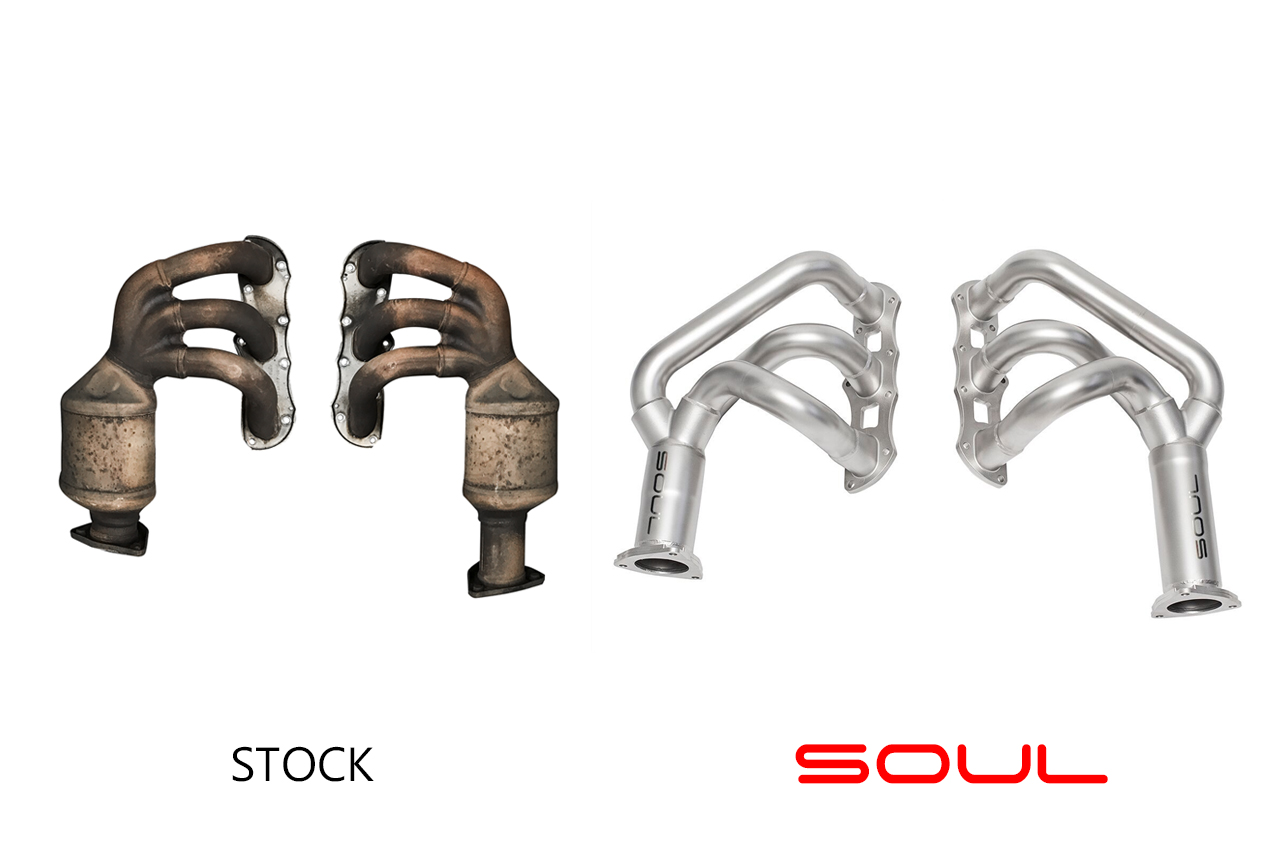 Competition Package - Porsche 991.1 Carrera S / GTS
Get the complete 991.1 S / GTS Soul Performance Products exhaust suite at once for significant package pricing!
By pairing the Competition Headers superior flow characteristics with the Valved Exhaust Systems x-pipe efficiency, we have been able to achieve the best possible response and delta in sound for a vehicle that sees both street and track use. It was important to us that we craft an exhaust solution that will give you a very aggressive tone when desired with the ability to calm it back down to a sophisticated level at the press of a button. With valves closed the tone is perfect for a daily driven car – have no worries about being fatigued by excessive volume or droning. By keeping the OEM side mufflers in place you'll retain the smooth, refined tone as delivered from Porsche with an added increase in sportiness. Once the valves open, be prepared to seduce all who surround you with an intoxicating symphony as the full tone of the flat six makes it way out the straight-through exhaust flow path and exits through stylish tips of your choosing.
PACKAGE INCLUDES:
Soul Performance Products 991.1 Carrera S / GTS Valved Exhaust System
Soul Performance Products 991.1 Carrera Competition Headers
DETAILS
+ Fits all Porsche 991.1 Carrera S and GTS vehicles (2012-2015) equipped with factory Porsche Sport Exhaust
+ Direct bolt on installation – instructions included
+ Valves are controlled with factory exhaust valve controls
+ True straight through design offering maximum performance and sound with valves open
+ All Soul Performance Products are backed by a Lifetime Warranty for both street and track use
DEVELOPMENT AND TESTING: The goal was to retain a refined sound with valves closed and craft an exhaust system with an unrestricted, straight shot out with valves open for the best possible gains in power and sound. By using a larger tubing diameter, smooth radius bends and proper X-pipe crossover flow characteristics (improving exhaust scavaging effects, leading to increased volumetric efficiency), the Soul Performance Products Valved Exhaust System improves throttle response and performance drastically over the restrictive factory "sport" exhaust.
CONSTRUCTION: These precision engineered headers are meticulously fabricated from T304L stainless steel. Proven design elements including port matched flanges, smooth radius primary tubing, and collectors that optimize the exhaust flow all work in conjunction to maximize power gains. Every set is rigorously quality-checked prior to shipping. Each system is made from mandrel bent T304L stainless steel tubing and features mufflers with fortified casings in the interest of durability. You can order the exhaust to suit your specific aesthetic desires – select from our Signature Satin or a full polish finishes, with tips of your choosing.
BOLT ON AND GO: Each product is tested in a fixture to ensure perfect fitment. Thorough installation instructions are included in the box for a straightforward install that can be performed by most DIY enthusiasts.
LIFETIME WARRANTY: Enjoy your Soul exhaust components with confidence on both the street and track as they are covered by a Lifetime Warranty! Our team will quickly work with you to resolve issues or answer any questions that you may have.
NOTES
+ This package may trigger a check engine light due to catalyst removal
+ This package is not CARB certified and may not be legal for use on emissions controlled vehicles; intended for off road use only
* In-house installation available at a discounted rate. Please call for more information!